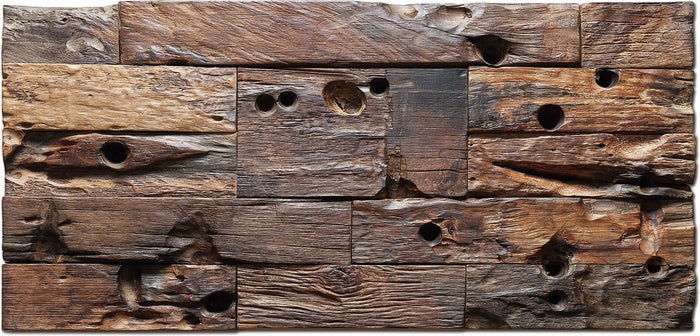 The wooden wall tiles/panels are made of natural old boat wood which delivers a strong feeling of antique. They have the classic beauty with free spirited attitude. Designed with different colors and shapes, they will match different themes projects.These wooden tiles become more and more popular because its wide use in interior design, especially for hotels and creative studios. Every sheet of the tile is unique because all the materials are natural and all chips are assembled randomly. Some of designs may have nail holes and other natural weathering marks on the finish. All holes, marks are also randomly showing up on the tile.
Features:
Natural primitive simplicity
Natural old boat wood shows the beauty of concise style.
Each one is unique manual made, not by machines.
Wide-use for interior design of background, wall decor.
High quality recycled material, environment friendly.
Mesh mounted will not get bend like plywood backing.
Easy for installing by an airgun.
Specifications

Sheet size
300 x 600 mm ( 12'' x 24'' )
Thickness
10 ~ 20 mm ( Range, uneven)
Material
Colors
Finish
Back
Dear customer,Thanks for your interest. Sorry for the confusion. PayPal is just a tool which we are using to receive payment. You may pay the order with your credit card without registering a PayPal account. You will go to PayPal website to complete payment. There's no need to have a PayPal account. Please just click "pay with a credit card" on PayPal website to complete payment. Thank you!
Dear customer, Please use thin set mortar to attach the tiles to the wall. And please use unsanded grout for installation. Thank you!
The tile is mesh mounted. You can cut it by scissors by following the grout lines. If you need to cut the glass or metal chips, please use a wet saw. Thank you!
Dear customer, the plastic film is protecting the finish of tile. Please remove it after grouting. Thank you.
Dear customer, A wet towel can clean it. It is glossy finish, easy for cleaning. Thank you.
Yes, the tile is mesh mounted, not peel and stick. It needs to be grouted.
Shipping Policy
General Shipping Info:
Free Ground Shipping offer for full size orders within the continental US and most of Canada areas. (Full size order means a box of tile (5 or 10 sheets).

In-stock orders will be shipped in 1-2 business days from our warehouse in California or Kentucky. Orders in Canada will be shipped from Vancouver.

Custom-made orders will be shipped as soon as production is completed. Custom-made orders will be shipped directly from our factory in China.

Our warehouses are not open for public. We are sorry we can not offer pick up service.

If you need to ship the tiles out of the US and Canada, please contact us for quote.

You will receive a notification email with tracking number when your order is shipped.
Shipping Methods:
In-stock tile shipments: Most in-stock orders are shipped via UPS which takes 4-6 business days for delivery. Large in-stock orders are shipped on a pallet.

Custom-made mosaic murals: Custom-made murals will be shipped via DHL/FedEx/UPS International directly from our factory. It usually takes 5-7 business days for delivery.

Rush delivery: Due to the weight of heavy tile products, our freight forwarder does not offer express delivery such as over-night service. We are sorry we highly recommend ordering early enough to catch your schedule.
Packaging
We have been studying the professional packaging for years. We updated the packaging for several times. Now we are very proud of our packaging methods and materials. We put great time and attention into packing tiles as carefully as possible to make sure our clients can receive them in perfect condition.

We have confidence in our packaging. So we offer free replacement for those damage caused by shipping. We offer customers risk-free shopping experience.